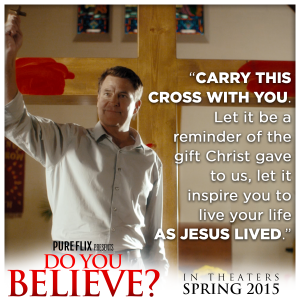 DO YOU BELIEVE?, the much-anticipated sequel to last year's faith film, God's Not Dead, opens in theaters on March 20.
God's Not Dead, surprised filmmakers and movie goers alike last year when it debuted in fifth place on opening weekend. Although up against big-budget movies like Divergent, the film still managed to steal fifth place despite opening on just 780 screens nationwide.[1] The reason? Reporter Gary Susman, over at Moviefone, suggested it was a result of the movie releasing within the "year of the Bible movie" and because enthusiasm for big-budget movies was less than expected.  He also credited tickets being pre-sold, the contemporary nature of the film, and that it hit a nerve among popular culture.[2]
Some say Christian films are a "niche" market. The producer behind the lens of God's Not Dead and DO YOU BELIEVE? says otherwise:
"There's enough consumers in this space that if you drill down deep and you find the content that they're looking for, you're going to be hugely successful," he said, referring to the success of Heaven is for Real and The Bible miniseries. "We're talking 100 million people plus. [Faith-based] people are waiting to be served content that aligns with their values."[3]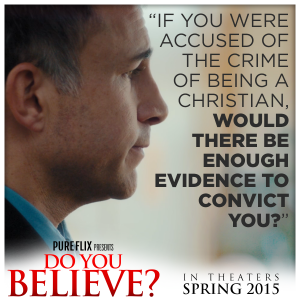 So what are the plans for DO YOU BELIEVE? Well, this time, Pure Flix Entertainment is partnering with Send The Light Distribution to create an exclusive gift and apparel line to carry the message of the movie further.[4] There are more than 20 licensed products, according to a report by Christian Retailing—including a pocket-sized wooden cross with salvation message.
"We believe that the message of DO YOU BELIEVE? is going to resonate powerfully with people, just as God's Not Dead did, and that they are going to want to both share it with others, and find ways to ensure it goes deep into their own lives," Director of New Market Development, Michael Turner said. "The products we have come up with are intended to help do that."[5]
The PG-13 film, rated as such for an accident sequence and some violence, follows 12 individuals whose lives intersect unexpectedly. Each of them discover there is "power in the Cross of Christ" and begin to grapple with the single most important question: DO YOU BELIEVE?[6]
The film features Academy Award® winner Mira Sorvino, The Goonies, and Lord of the Rings, star Sean Astin, Spy Kids heroine Alex Penavega, and several other well-known faces, including Lee Majors and Cybill Shepard.
So what are people saying? According to the movie's website, www.doyoubelieve.com, it's getting rave reviews. Edwin L. Carpenter, a Dove Foundation reviewer from 5-Dove Review says:
"DO YOU BELIEVE? is the best faith-based film I have ever seen! I have seen a lot of them, so this is certainly a compliment. The superlatives will flow from the faith-based community regarding this film. The stories are wonderful, the characters are rich, the acting is terrific. … We are happy to award DO YOU BELIEVE? our 'Faith-Friendly' Seal for ages twelve plus. See this movie! This film has it all!"
It's as if the movie echoes the words of Jesus Christ in John 11:25–26 when He said, "I am the resurrection and the life. The one who believes in me will live, even though they die; and whoever lives by believing in me will never die. Do you believe this?"
… do you believe this?
God's Not Dead explored the existence of God. DO YOU BELIEVE? poses the follow-up question and takes viewers to the foot of the cross and explores what it means to "take up your cross" (Luke 9:23).
"It has a little something for everyone, especially in terms of grace, and if you need grace or [are] looking for grace," lead actor Liam Matthews told the Christian Post. "It's one of the greatest Christian films that you'll see."[7]
With eternity on the line, who will you commit to bringing to see this movie on opening weekend? Check out the trailer below:
---
[1] Susman, Gary. "Box Office: What's Behind the Surprising Success of 'God's Not Dead'?" The Moviefone Blog. Moviefone, 24 Mar. 2014. Web. 06 Mar. 2015.
[2] Ibid.
[3] Saval, Malina. "'God's Not Dead' Producer: Faith-Based Films Not 'Niche' Market." Variety. Variety, 12 June 2014. Web. 06 Mar. 2015.
[4] "Marketing Efforts Support 'God's Not Dead' Follow-up Film." Christian Retailing. Christian Retailing, 5 Mar. 2015. Web. 06 Mar. 2015.
[5] Ibid.
[6] "DO YOU BELIEVE? – About." DO YOU BELIEVE?. Pure Flix Entertainment, n.d. Web. 06 Mar. 2015.
[7] Koonse, Emma. "'Do You Believe' Star Discusses 'God's Not Dead' Follow-Up Film: People Have Paid for Being Outspoken About Their Faith." Christian Post. Christian Post, 26 Feb. 2015. Web. 06 Mar. 2015.