There is much to learn from Ryan Bell, former pastor, and current "Speaker, Author, Teacher, Activist at the Intersection of Faith, Justice and the Common Good" – as he describes himself.  A passion for learning and doing well emanates from every effort of this forty-plus 'religious nomad.'  Seemingly that longing to know has shaped Bell all his life, drawing him to question and strive for excellence in many ways.  Under his leadership, the Hollywood Adventist Church won an "Innovative Church of the Year award."  It also propelled him into a faith crisis and the public eye; hearing his heart may save lives.
Despite his public recognition and even success, unrest with the status quo brought Bell into conflict with his church leadership that eventually led to a request for his resignation.   A man whose very identity interwove with the church, Bell found himself wandering in a tangle of doubt.  "I have struggled to relate to the church and, if I'm honest, God.  For the next 12 months I will live as if there is no God. I will not pray, read the Bible for inspiration, refer to God as the cause of things or hope that God might intervene and change my own or someone else's circumstances."  His 12 month journey ended as 2015 began; his resolve to live without God continues.
While the headlines blaze "Former Pastor Embraces Atheism," the truth is a bit more complex.  Bell explains that he is a humanist first and an agnostic atheist second.  He is no longer sure there is a God—or if that even matters.  Bell feels his emotional and intellectual energy is more wisely directed to living with integrity and in right relationship with others and nature.  In fact, he summarizes the conclusion of his trek saying, "I am not doing a victory lap.  I count this a loss…intellectual and emotional."
The truth in Bell's story resonates deep in my heart for I believe he is a voice crying out to churches filled with people who only know God with their head—not their hearts.  Our church pews are littered with 'walking' dead; too many people have mistaken religion and church as God. The churched-dead drink deeply of poisonous lies such as 'God is (just) human nature writ large' or 'Humanity created God' when disillusionment sets in.  Nothing but the real God ever satisfies!  Bell speaks to that, too, when he says, "I would love for there to be a God."  Good News, Mr. Bell and other questioners:  There is a God!  Christians never need fear asking questions—but must also remember true knowledge comes from God.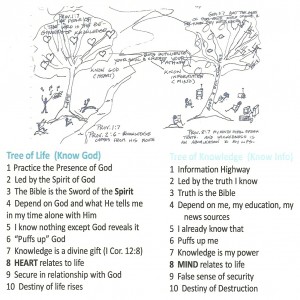 Bell shut himself off from the source of knowledge in his year-long search, determined not to pray or read His word.  He chose, instead, atheist manifestos and humanist writings.  "The relentless search for knowledge and truth" Bell found in the atheist community is not new; it is the same nature that first ate of the Tree of Knowledge of Good & Evil.  God promises that those who search for HIM with all their heart will find Him.  The key is that the search must be focused on finding Him, knowing His character.  Knowledge is a simple by-product.
Of his Year Without God, Bell says, "I didn't really notice any difference." That presents a chilling truth to me for many who faithfully serve the church:  they already live without God.  Bell simply made a conscious choice to honestly say what he already lived.   A neighboring pastor contacted Mr. Bell after he announced his decision to continue 'life without God' and said, "I have the utmost confidence you will end up in the right place."  He certainly has a greater chance now that the pretending is done.  If you simply have religious rituals that make you feel comfortable and safe, I encourage you to embrace Ryan Bell's question:  Assuming there is a God, does God make a difference in the world?  Then avoid Bell's error:  Seek your answer from God, not those who never met Him.