Welcome to Part 2 of A Chat With Kyle Petty: The Charity Ride!  This event is an annual motorcycle ride across the country meant to raise money to fund Victory Junction.  The participants, including Kyle Petty, have lots of fun and laughs, but they also are dedicated to what is important…helping kids!
The Kyle Petty Charity Ride Across America
Lili:     When, how, and why was the Charity Ride established?
Kyle:   It all started in 1995 with me and some friends who enjoyed riding.  We would ride from racetrack to racetrack together, and as we rode the group just continued to grow.  Eventually we decided to turn it into an annual event and get folks to help us raise money along the way for various children's hospitals.  Since then, it's only continued to evolve.  We never thought it would be what it has turned into today, 20 years later.
Lili:    What entities besides Victory Junction does it benefit?
Kyle:  Initially, we did visit and make donations to various children's hospitals along our routes.  However, after we started building the camp in memory of Adam, the Ride began benefitting Victory Junction and still does to this day.  Since we started, we've raised more than $16 million for children with chronic or life-threatening illnesses.
Lili:    How do you determine when the Ride will take place and where you will be making stops?
Kyle:  The Ride used to take place in the summer, but due to the heat it's now hosted once a year in the spring, in late April or early May.  Myself and the Charity Ride board members will decide on a starting and ending location, based on feedback from our riders.  From there, we pretty much draw a straight line and try to connect the dots in between with our overnight stops every 360 miles or so.  Obviously, we adjust accordingly depending on where we have been in the past and other big overnight stops we'd like to make.  But we usually end up with about 200 – 400 miles a day, over a seven to eight day period.
Lili:    How many riders can accompany you, and how do they go about signing up?
Kyle:  We have around 175 riders participate every year.  For more information on joining our 22nd Anniversary Ride (2016), interested participants should send their name, phone number, and mailing address to [email protected].  Ride applications will be distributed around the first of the year.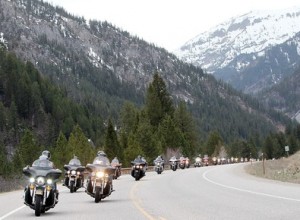 Lili:    When on the ride, we see pictures and video on the news showing your stops.  Can you share any interesting stories regarding conversations with fans or experiences in general on the road?
Kyle:   This is always a tough question, because there are a lot.  One I love to tell is the first year we did the Charity Ride, there were about 35 of us, and we pulled into a gas station for fuel.  There was one lady who worked at the gas station and she was so afraid of all those motorcyclists coming in, she locked the doors on us, and we couldn't get in or get gas.  We tell this story all the time because the idea of it is just hilarious, really.  All we wanted was to ride around the country and raise money for children, but we couldn't even get gas.
Aside from hanging out with some of my best friends and traveling the country for a good cause, the kids we meet along the way always stick out when I look back.  Victory Junction campers come from all over the country and they will often travel a couple of hours to meet us at a gas station in the middle of nowhere or come down and join us for dinner one night.  It means so much to our riders and it really puts the whole purpose of the Charity Ride into perspective.
"For whoever gives you a cup of water to drink in My name, because you belong to Christ, assuredly, I say to you, he will by no means lose his reward."  Mark 9: 41 (NKJV)
I hope you enjoyed Part 2 of the A Chat With Kyle Petty series.  Part 3 will publish on Monday, September 14th, 2015.  We will learn more about Kyle Petty, the man, in Part 3!
If you missed Part 1 last week, about the Victory Junction camp, here is a link directly to it:  https://www.tblfaithnews.com/?p=24518
For more information of the Kyle Petty Charity Ride Across America check out the website at www.kylepettycharityride.com.
Blessings!