Welcome to Part 3 of the series, A Chat With Kyle Petty!  
In this final section of the interview, we will learn about Kyle himself,  his dedication to his work, his feelings about home, and the importance of heading up Victory Junction and the Kyle Petty Charity Ride Across America.  We will also learn about his faith, and how he has learned to apply it to his life, and to his mission.
Lili: You were born and raised in central North Carolina.  Despite all your fame and success, you still choose to make it your home.  What is it that keeps you tied to this community, besides your family?
Kyle: That's just where all my family and friends still are.  The people there are the whole reason.  I think you're always drawn back to the area you grew up in.  There's always something special.  You know, it's where I went to high school, played baseball and rode motorcycles.  Even though I live in Charlotte now, Level Cross always has been and always will be home.
Lili: Many who are born to famous families choose different occupations.  What was it about racing that you chose to make it your career?
Kyle: Honestly, it's a result of where I was born.  Around where I grew up, everyone was a farmer.  Whether it was tobacco, dairy, or chicken, you worked on the farm and you were in a family of three or four generations that have done it.  You just follow in the footsteps of your family.  With racing, my family did it so I did too.  It wasn't about the money or the fame – I wanted to drive race cars since I was 5 years old, just because I'd always watched my father and grandfather.  My friends all followed their families' lead in farming, and I followed mine in racing.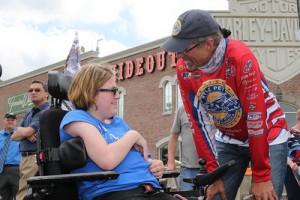 Lili: I heard you have a definite talent for singing and playing the guitar.  Do you ever sing and play in public?  What type of music do you like?
Kyle: Music is definitely a passion of mine, but I rarely play in public these days.  I'll do an open mic every now and then around Charlotte, and I play for the Charity Ride family on every Ride, but that's about it.  I really only play folk and country, but I like all kinds of music.
Lili: You are a professed Christian.  As such, have you experienced persecution within the NASCAR world, and if so, how did you handle it?  And do you currently experience this in the business world in regards to the camp and your other business enterprises?
Kyle: I've never experienced it in NASCAR.  Honestly, my world was pretty small while I was racing, because I was in the garage area and that's just where the teams are located. Every Sunday we had a church service in the same area and everyone was pretty much on the same page.
I can't say that I recall ever having any bad experiences with the business world either, and definitely not at camp.  Victory Junction is non-denominational–we see so many religions come to camp and we don't want to discriminate.
To be totally honest, I don't feel like I have ever really experienced it anywhere.
Lili: How do you find a faith and spiritual balance within the very busy life you lead?
Kyle: I think that your faith and spirituality becomes a part of your life.  It's not that you have to find time for it, or you have to make a place for it, it's a part of who you are.  From the time Adam's [Kyle's son] accident happened, to camp, to every thing that has happened in between, the balance is there.  It's not a hard balancing act for me–it's part of the decision-making process.  I don't think you have to look for it.  If you're looking for that balance, then it becomes tough, but I don't believe you have to look for it.
Lili: What message would you like to leave our readers with, regarding your personal faith, Victory Junction, and the Kyle Petty Charity Ride Across America?
Kyle: I would just remind folks that one person can make a difference.  Whether it's through your faith and sharing your beliefs with someone who may be down, or whether it's offering a hand to a kid at camp to allow them to realize that there is a greater thing out there.  A smile or word of encouragement may not seem like much, but when you put it in perspective through Victory Junction or the Kyle Petty Charity Ride, it really goes a long way for strangers you meet along the way.
"Be devoted to one another in brotherly love.  Honor one another above yourselves."  Romans 12:10 (NIV)
I hope you have enjoyed this 3 part series of the interview with Kyle Petty.  I hope you have seen the man, and his mission, in regards to Victory Junction and the Kyle Petty Charity Ride.  While these both are tributes and in honor of his son, Adam, they have gone above and beyond because of the benefits provided to children who suffer from serious health issues, and who may never have an opportunity to attend camp like most kids.  The Petty family, and all those who work with them to bless these kids, are to be commended.
If you missed the previous segments of this interview, here are the links so you can find them easily:
Part 1: A Chat With Kyle Petty:  Victory Junction
Part 2: A Chat With Kyle Petty:  The Kyle Petty Charity Ride Across America
There are opportunities to volunteer, or to donate either goods or financially, to Victory Junction.  Go to www.victoryjunction.org to learn more!
Blessings!