Two of your favorite childhood toys are about to get a "faith lift." Send The Light Distribution (STL), a Christian distribution company, announced late last week that they are partnering with the makers of Etch A Sketch and Toss Across to create "spiritually themed" versions of the classic toys.
"We're delighted to be able to bring these much-loved toys to the Christian market in a unique way," said STL's Director of New Market Development Michael Turner. "Parents who remember playing with them when they were young and who now want to instill spiritual values in their children will welcome being able to share a memory and experience with these special faith elements."[1]
The latest version of Etch A Sketch will feature both a Joseph and David & Goliath theme over the unit's traditional red border, whereas the Toss Across will showcase the ever-popular Veggie Tales characters.
"Etch A Sketch has been a tried and true staple in children's toy boxes for over 55 years," said Ohio Art Company (the maker of Etch A Sketch) President Martin Killgallon. "We are incredibly excited to be working closely with CBA and Send The Light Distribution to develop an exclusive line of products that continue to help children positively develop through play that lasts a lifetime." More than 100 million Etch A Sketches have been sold since they first debuted in 1960.[2]
The originators of Toss Across shared similar sentiments. "Veggie Tales has proven to be an evergreen property in a fast-changing marketplace," Justin Berger, sales manager at Cardinal Industries, said. "Combining its imagery with fun and exciting game-play should prove to be a home run for all involved."[3]
STL continues to explore new opportunities within the secular market to create new, faith-based toys that enhance learning and development.
"Many parents have a high concern to find good educational and developmental resources," Turner went on to say.[4] Therefore, it's only natural to explore these avenues.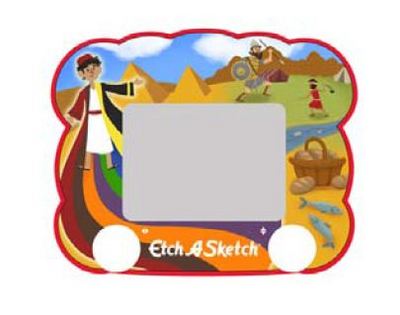 The Joseph, David & Goliath Etch A Sketch features the coat of many colors on the left side of the device, while David & Goliath battle it out in the upper right-hand corner, and two fish and five loaves of bread take up the lower left-hand corner. The traditionally square unit also has a unique scalloped edge for even more visual interest. The toy will release August 30.[5]
The Toss Across Veggie Tales edition features the show's beloved main characters: Larry the Cucumber and Bob the Tomato. The interactive, hands-on version of tic-tac-toe will release August 30 as well and is geared for children ages five and up.[6]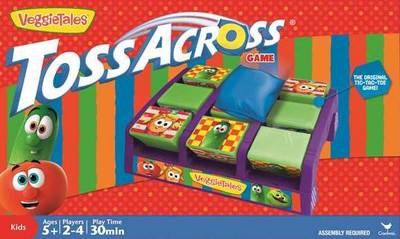 In a world dominated by technological advances, it can be hard for parents to steer their children toward hands-on activities—let alone, hands-on, faith-based activities. By adding spiritual elements to classic toys with a long history of success, STL hopes to bridge the gap, providing parents with the biblical, educational and developmental resources they need.
Proverbs 22:6 says, "Start children off on the way they should go, and even when they are old they will not turn from it."
Certainly "starting children off" in the right direction includes choosing appropriate toys for children to play with. Hence why STL maintains its 58-year-old mission: "to advance the Christian faith and carry out the Great Commission through the effective distribution of Scripture-based and wholesome media."[7]
Which classic toy would you like to see get a "faith lift"?
---
[1] As reported to Christian Retailing, http://christianretailing.com/index.php/newsletter/latest/28009-send-the-light-to-offer-spiritual-takes-on-two-classic-childrens-toys.
[2] Ibid.
[3] Ibid.
[4] Ibid.
[5] http://www.stl-distribution.com/details/?id=0026511506190
[6] Ibid.