Maybe I shouldn't do this, but I'm about to give my three secret reasons for wanting to see you all tied up. I won't lie–I've been fantasizing about this for some time.
So has the rest of the world.
E.L. James' erotica romance 50 Shades trilogy series has sold over 100-million copies. And I'm sure plenty of those readers go to church on Sunday. The Greeks had four words for love. Agape, storge, and phileo expressed different kinds of non-sexual love.  As much as God shows us the virtue of these three, eros—the word for sexual love—has a way of ruling the heart of even the most committed believers.
I haven't read the book or seen the film, but watching the preview had me looking for a confessional. (And I'm not even Catholic!)
Power can give more pleasure than any touch. And some are drawn to the excitement of helplessness–of absolving all control.
But power has its place, and it rests not in the will of man, but in the will of God. And helplessness has it place–not in the desecration of a sacred union, but in the acknowledgment of a holy one.
When you relinquish your power and allow God his place as Lord of your life, you will feel helpless.
At first.
And then you will know the presence of the Helper. He will guide your thoughts and actions. He will allow you to have doubts, and He will help you work through them.
You will soon become tied up in the Word.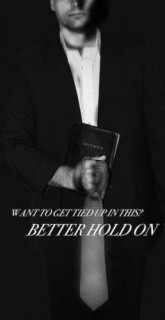 Here are three reasons why I would love to watch that happen, and they all come from 2 Timothy 3:16-17:
All Scripture is God-breathed and is useful for teaching, rebuking, correcting and training in righteousness, so that the servant of God may be thoroughly equipped for every good work (NIV, 2 Tim. 3:16-17).
The Word is more than the words of men.
All of the Word is useful.
The Word is sufficient.
The Word is God-breathed–the inspiration of God transmitted through the minds of men. The Word is useful for everything: teaching, rebuking, correcting, and training. And the Word is all you need; it will make you thoroughly equipped.
When you allow God to truly change your life, you will have no choice but to let Him tie you up in his Word.
And that's how I want to see you.
How do you like to get tied up in the Word?