Ancient legends over four thousand years old tell of a mythical dragon warring against good.  The legends say the sea-dwelling beast, named from the Biblical creature, Leviathan, must be conquered for God to create or sustain life.  Legendarily, the dragon embodies the concept of rejecting divine authority.  Various Scriptural accounts of a similar seven-headed serpentine creature also depict an enemy of the Creator.  The lengthiest passage discussing Leviathan is found in God's rebuke of Job.
(Job 41).  The summary statement of Leviathan made me stop and think what the beast might look like in 2015:
"He sees everything that is high; he is king over all the sons of pride." Job 41:34
Whomever or whatever Leviathan represents in Scripture, it personifies the chaos that accompanies the rejection of divine order.  Chaos is antithetical to our God of order and purpose.  All that God does and creates has purpose—even Satan was created for a purpose.  Satan chose to reject the purpose of God and has been perpetuating that destructive choice ever since.
Chaos is the result of rejecting God's design. Peace is part of the Glory Package delivered in Jesus Christ!  The victory of Job was not in his physical healing or restoring of his wealth.  The purpose of all Job's pain was the victory of seeing God!  All Job's religiosity blinded him to truth:  he was a son of pride, a servant of King Leviathan.  Such self-deception is not uncommon; Scripture tells us that the heart is deceitful and desperately wicked.  God allows chaos for a purpose too.  Chaos served to open Job's eyes to the King he meant to serve.  Often portrayed as a cosmic battle between God and Satan, the book of Job actually depicts the purposeful plan of God to reveal Himself to one who has faithfully tried his religious best.   That is serious cause for rejoicing, for we all have areas of blindness.
Pride has a sneaky way of masquerading as right and good. It always blinds us to true righteousness and goodness.  In fact, in a twisted, prideful way Satan does do the purpose he was created to do:  cover the glory of God. (Ezekiel 28:14)  As the anointed guardian Cherub, Satan was to protect (cover) the glory of God.  Instead of honoring that glory, Satan obscures it so that he himself might be glorified.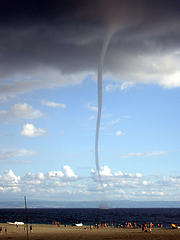 God designed humanity with purpose as well.  He gives it to us in the gift of life.  Our purpose is to live for the glory of God. (1 Corinthians 10:31) Instead, pride persuades us to follow the way of the evil one and mis-use our gift.  We honor our own desires and use our will to reject God.  Such a spirit of pride brings destructive chaos … or the presence of a leviathan in our lives.  The purpose of the chaos is the same for us as it was for Job:  the revelation of God!  Do not despair.  The work of the enemy is what Jesus came to destroy.  We can live for His glory and enjoy His presence!
When Job understood his blessing, God gave him a new task:  pray for those blinded as he had been.  Discernment is never given for judgment–only for intercession.
Do you see chaos that God wants to use to reveal Himself? What is it and what will be your response?