The goats did not know they had a need, but they did.  The pasture they munched about so placidly would soon be shorn by the mower.  Familiar with the farmer who kept them, the flock was obedient to his leading.  As I watched the goats moved to a safe,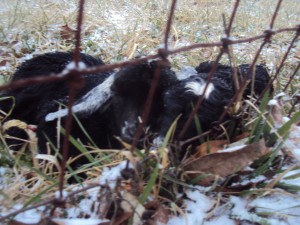 abundant pasture, God spoke to my heart.  "I do this for you.  You do not always know what I am doing, but I am always guiding you.  Will you trust me like they trust their guide?"
We all have blind spots—needs we have not identified; sins we cannot see.  "We cannot know what we do not know," some succinctly say.  It is a frustrating truth.  The joyous counterpart to that truth is God knows it all, and His plan for us already took every detail into account.  Just as He promised the Israelites who were in captivity, He promises us:
"For I know the plans I have for you," declares the Lord, "plans to prosper you and not to harm you, plans to give you hope and a future."  Jeremiah 29:11
So, how did the farmer guide the goats?  Using his knowledge of their need, their desires and their fears, he moved the herd in the right direction.  Driving his tractor slowly around and ahead of his flock, he stopped.  Shaking a bucket of food, he called to the goats.  As the lead billy goat took a hesitant step forward, the others watched.  Recognizing their fear of the motor noise, the farmer cut the engine.  Immediately, all of the goats moved toward him.  Dumping a small bit out, he moved the tractor forward while the herd ate.  The farmer repeated the process until the herd rested safely in the neighboring field.
Have you seen God do that in your life?  I have.  God continually works to align me with His good and right purposes.  He goes before me with patience and wisdom.  Even though I mean to obey, sometimes I wander off or cower in fear.  Always, He calls and draws me forward by giving me what I both need and enjoy.   He does not leave me to my own wisdom and understanding.
Our heavenly Father wants to meet our needs; He realizes that our understanding is often lacking.  He delights in giving us pleasure as He walks us forward into His purposes.  God gently accommodates our fears as He guides us through life.  He does not angrily punish ignorance, blindness or even lack of trust.  He is a Faithful Guide for life, just as the farmer is the guide for his flock.
Whatever love dictates, God does.  The seasons of our lives change–and it takes us time to learn.  In those times of transition, we need not fear the displeasure of God.  With a heart soft to the leading of God, there is nothing to fear.
When has God moved you through a time of 'blindness' into a place of safety?