The eagle flies nearly 3000 feet above the city of Dubai, periodically turning his head, scanning the horizon.  The panoramic view holds no appeal to him; his eye seeks only the instruction of his trainer.  The eagle watches for the hand motions that direct him: "continue soaring," "come to me."  Even though the eagle loves soaring, when the signal comes, it dives at speeds of 80 mph to its handler.  The eye of the eagle inspires me!
I want to train my eyes upon my Handler, don't you?  The vision of the eagle astounds me! If we were eagles, we could stand on a ten-story building and see an ant crawling on the sidewalk.  We would be able to see in a 340 degree radius.  Soaring over a city appeals far less to me than being an eagle in open country–the vistas of the mountains and streams call to me.  Perhaps that is why we humans do not have eagle eyes.  We can be distracted far too easily; I would be so busy looking, I might never look to the One who holds my future.
As amazing as the eagle is, it cannot manage its mind as well as humans.  That free will God gave us (the one that causes us much difficulty at times) allows us to enter into union with the all-powerful One!  We can exercise our will to choose whether we will turn our eyes to the Lord.  When Jesus restored the vision of a blind man, his vision cleared after he looked up. (Mark 8:25)  The same is true for us; when we look up to God, we can be physically blind yet see perfectly.  The power we have to focus on our Handler exceeds any visual acuity; lasering on Him opens our eyes to everything.
Joshua demonstrates the power of focus well.  As he took leadership of the Israelites after Moses' death, battle after battle ensued.  God had explained the battles were necessary; every battle plan received from God succeeded.  The battle at Jericho revealed the power of crazy faith:  walk around the city seven times and the walls will fall.
Presumption and sin led to defeat at Ai, but seeking God produced victory.  Joshua learned that, zoned in on God, they did not fail.  As soon as eyes were on an earthly aspect, defeat followed.  Enthusiasm from victories, sin in the camp, deception from others, good intentions, even hours of reading the Word did not move them forward.  "Pay attention to me," says God.  Therein is guidance that brings victory.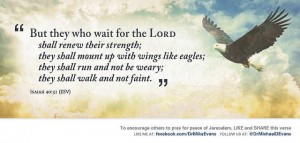 Scripture abounds with reminders that the eye of the Father is on us.  In one of those passages, God speaks of finding and instructing the lost.  Then, He actually describes His manner of teaching as that of an eagle:
[God] found him in a desert land, and in the waste howling wilderness; he led him about, he instructed him, he kept him as the apple of his eye.  As an eagle stirreth up her nest, fluttereth over her young, spreadeth abroad her wings, taketh them, beareth them on her wings. Deuteronomy 32:10, 11
We, like the Israelites, are the apple of His eye.  He longs for us to soar–when the time is right.  He will set us aloft and lift us when we need Him too.  But we must train our eyes to seek Him and trust His direction.
When we keep Him as the apple of our eye, others will follow our example.  The world is watching where we look.  Let's help them look to the only good Guide.
What pulls your eyes off from the Father?