On June 25, the body of a four-year-old girl was found on the shore of Deer Island in Massachusetts. A woman was walking her dog along the beach, when she spotted a trash bag, which—to her horror—contained the remains of a little girl. "Baby Doe," as she has been dubbed by officials, was wearing black polka-dot leggings and was found with a zebra-print blanket.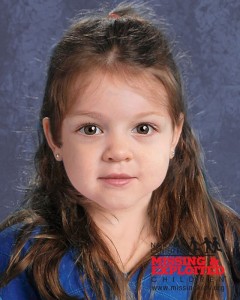 The National Center for Missing and Exploited Children immediately released a computer-generated image of what the girl would have looked like when she was alive in a desperate attempt to identify her remains. The image, which looks more like a school photograph, depicts Baby Doe with long brown hair, beautiful chocolate eyes and a button nose. Chubby cheeks and pierced ears round out the image of this young girl, which was posted to the Massachusetts State Police Facebook page. As of Wednesday morning (July 9), the image had been liked more than 50,000 times and shared more than 615,000 times.[1]
But despite the immense attention this news story has received, the girl remains nameless. Her death, a mystery. Autopsy results, inconclusive.
The public has responded with outrage, questions and confusion in response to the Facebook image:
"How can nobody be missing her?"
"We Need to find the Monster or Monsters that did this to this Beautiful Little Angel!"
"Maybe the mom was kidnapped or something? Idk this is so sad and frustrating."
"I hope they catch the scumbag!!!!"
But then, comments like this: "My prayers are with all the searchers. Thank God that this baby is in Heaven with Jesus, rest in peace little sweetie," a woman from Maryland wrote.
Yes, Baby Doe is with Jesus. She has a name. And it is known—by her Creator.
Isaiah 43:1 says, "But now, this is what the Lord says—he who created you, Jacob, he who formed you, Israel: 'Do not fear, for I have redeemed you; I have summoned you by name; you are mine'" (emphasis mine).
Jeremiah 1:5: "Before I formed you in the womb I knew you . . ." (emphasis mine).
John 10:14–15: "'I am the good shepherd; I know my sheep and my sheep know me—just as the Father knows me and I know the Father—and I lay down my life for the sheep'" (emphasis mine).
Jesus knows this precious little one. And He knows your name, too.
There is a saying: "To the world, you may be just one person. But to one person, you may be the world." You mean the world to Jesus.
Justice will be served for little Baby Doe (Isaiah 61:8, Romans 12:19). But in the meantime, we can have peace knowing this sweet girl is in the arms of her Savior. She's dancing with billions of others before the throne and joining the throngs of other children singing praises before their Daddy.
In the same way, you can find comfort knowing that Jesus—the Creator of the universe, the King of Kings and Lord of Lords—knows your name just as He does this precious child's. He created you with purpose (Jeremiah 29:11). He knows the number of hairs atop your head (Luke 12:7). He keeps count of your tears (Psalm 56:8). And He longs to wipe them away—and one day will (Revelation 21:4).
Jesus knows Baby Doe, and He knows you, too. Have you grasped that life-changing truth? Do you know Him?
---
[1] http://www.wmur.com/news/new-image-of-4yearold-girl-found-dead-on-deer-island-released/34071458?utm_source=Social&utm_medium=FBPAGE&utm_campaign=WMUR-TV&Content%20Type=Story