A "Walk of faith" is a powerful metaphor to consider.  A walk implies progress, movement and purpose.  In the natural world, a walk offers multi-faceted blessings: the beauty of nature, the health of physical activity, the quieting of the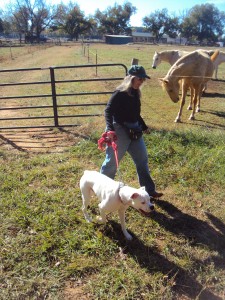 typical frantic pace.  Though I know those things are truth, the primary reason I walk is our 70-pound Boxer.  One of his favorite things in the world is walking.  Well, what he considers walking anyway.  A walk for him is a joyous exploration of sights, sounds and possibilities.  "What's that smell?  Who has been here?  What's that over there? Oh, look, people who want to pet me!"
Sometimes our definitions of walk are so contrary neither of us enjoys it as much as we could.  Other times we enjoy the moment and walk in unison.  I join in his delight over a blowing leaf or a rock that rolls, or he turns his big brown eyes toward me and nuzzles my hand.  I suspect that is how our 'walk of faith' should feel with other believers.
Grievously, though, we children of God tend to be so intent on the 'rightness' of our faith-walk, we stop walking to find fault with others.  We forget that the depths of Gospel Truth transcend words, traditions, and theological concepts; we dare judge others' relationship with God as lesser than our own.  The convictions God gives us are ours to live—not debate or declare as His opinion!  Instead of telling people why their way is wrong, we need to live what we believe to be right.  Condemning and criticizing the walk of others magnifies the darkness.  Working out the glory God, in His grace, placed within us allows us to be His Light to the world.  The walk of faith is a workout we all need!
Philippians 2:12-14 encourages us to work out and adds this:   'do all things without murmuring or disputing that you may be blameless before a perverse world.'  Sadly, we in the Christian community readily fall to the temptation of murmuring and disputing.
'They are insincere in their worship.  They only want to be entertained.
They do not honor the Word.  They are legalists.'
We bite and devour one another with passion.  It tears our Savior apart; He died that we might be one with each other, Himself and the Father.
Even as I write this, I tremble for this is holy ground.  Some of those words and accusations may well be prophetic admonishments spoken into hearts by the Spirit of God.  If that is so, the Biblical guidelines for helping those trapped in sin will produce healing not division.  Publicly shaming one another is not Christ's way.
Let us heed Romans 14:10.   Then, let us walk out our beliefs, not stopping to shoot at our brothers.  Let us trust that they seek His face, too; let us trust He loves them and will correct errors (in all of us) as needed.  Our passion must be to show with our lives our answer to Christ's questions:  But who do you say I am?
Walking out beliefs takes more fortitude and faithfulness than criticizing another's walk.  What is distracting you from your walk of faith?